Santorini is an island full of activities. From the sunset tours and the museums to the fish spa and the crazy night life at Fira town, there is definitely a tone of experiences that could satisfy every single need. 
Still, some of them are so unique and so much linked to the island that they should definitely not be missed! 
So, even if you are planning to visit the island for a couple of days or a whole week, please make sure you have added at least one of the following experiences to your "must do" list. You will not regret it!
Here below, you can find the top 5 most amazing experiences in Santorini:
1 . Take a sailing/catamaran cruise
This experience is highly recommended! The view of the island from the water is outstanding. The visit of Palia Kameni (i.e. the volcano) is a once- in-a-lifetime experience, not to mention swimming in the hot springs and other hidden spots of the Caldera. The feeling you will get while sailing in this unique part of the Aegean sea is a feeling that could not be described in words. You just have to experience it. Here is some practical information that will help you plan your cruise:
You can choose to have a cruise in the morning (day cruise) or in the afternoon (sunset cruise). You can go private or semi-private, depending on your budget. Almost all of the sailing companies will provide you with transportation services, towels, snorkeling equipment and of course lunch or dinner on the boat. The price per person usually changes according to the type of vessel, number of persons and the menu/beverages that you will select.
We highly recommend "Sunset Oia" as one of the most professional and trustworthy sailing company on the island. You can visit their website, here: http://www.sailing-santorini.com/ or contact them directly by email: reservations@sunset-oia.com to discuss more and plan your next cruise.
We are sure you will enjoy it!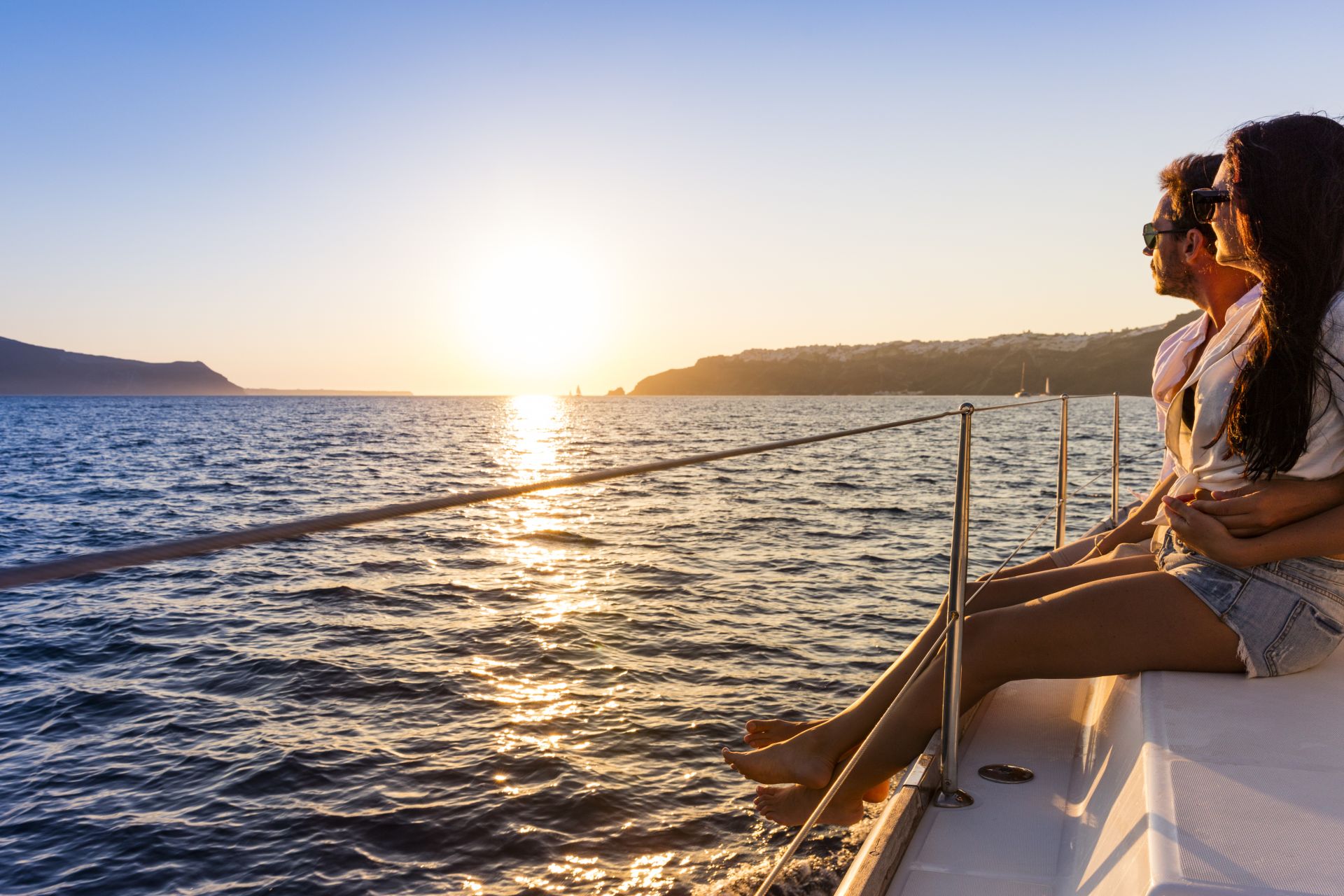 2 . Visit a local winery
The wine production in Santorini goes back many decades ago, which basically means two things: the first is that there are numerous of local wineries that you can visit, from old family to new modern ones, and the second is that these people really know what they are doing!
So, if you are a wine lover or you are just curious about this aspect of Santorini, we suggest you go for a wine tasting experience. Here are some useful tips for you:
During the summer season, almost all wineries in Santorini operate from late in the morning (around 11:00 am) till early at night (around 20:00 pm). Few of them are closed on Sundays. However, when the summer season ends, most of the wineries are closed. Please mind that the few wineries that remain open, during the winter time, will not accept reservations till 16:00 pm.
A wine tour will give you a more holistic idea of this important professional activity on the island. But, in case you prefer to visit a winery by yourselves and you don't know which one to choose, we highly recommend you visit Gavalas winery in Megalochori.
Gavalas is one of the oldest wineries in Santorini, where you can taste some of the most famous local varieties, like Assyrtiko, Aidani and Mavrotragano. You can also combine your visit to the winery with a nice walk through the traditional village of Megalochori.
Do not forget to book your wine tasting experience via the phone: +302286082552 or email: winetasting@gavalaswines.gr
For more information, regarding Gavalas winery, please visit their official website, here: https://www.gavalaswines.gr/
We hope you have a wonderful time!
3 . Do the hiking from Fira to Oia
One of the most popular activities on the island of Santorini is the hiking from Fira town to Oia village, following the caldera cliff side. To organize this activity by yourselves, you could follow the instructions, here below:
Pick the most appropriate day and time. The day depends on your overall holidays schedule, but also the weather! Before you have this experience, we highly recommend you check the forecast and pick the day with the best weather conditions. As per your starting/finishing time, we suggest you start either early in the morning or late in the afternoon to avoid the heat; on the other hand, make sure you have finished your hiking at around sunset time so that you can both avoid the dark and admire the sunset!
Check the road signs and ask for a local advice regarding the hiking path. You will not find the hiking path on any local map. Be prepared of what you are going to face during your way to Oia. Take into consideration the number of kilometers that you will need to walk and decide from which point you could start the hiking, based on your personal and/or group capabilities. It's not so bad if you make it shorter, the important thing is to enjoy it!
Choose a sports outfit, a comfortable pair of baskets, a hat, a pair of sunglasses and a backpack. Do not forget your mobile phone (charged!), some pocket money and a lot of water! Please mind that the only store or coffee shop that you will find is either at the beginning (Fira – Firostefani – Imerovigli) or at the end of the hiking path (Oia). During the main hiking path there will be no store or coffee shop around. It will be just you and the nature! So, be prepared and well equipped with food and water!
Finally, once you've finished your hiking experience you will probably be exhausted and need a way back to your starting point or your hotel. We highly suggest you have planned this before you start the hiking. Check the bus schedule to make sure there is a bus departing from Oia to Fira at the time you finish or book a private car that will wait for you at your finishing point. This will make your experience more pleasant and stress-free!
In case you want to just walk around Fira and Firostefani villages (and not hike!), take a look at this amazing walking and food experience organized by Aristotelis on Airbnb travel platform: https://www.airbnb.gr/experiences/297858?adults=1&guests=1&s=13&unique_share_id=c19a8dab-bfe3-4d70-b2ce-dc5d68cedada
You will have the opportunity to walk by the caldera cliff side, take some outstanding photos, make several stops for coffee and food and learn some interesting local insights. We highly recommend Aristotelis as one of the most experienced and knowledgeable hosts for a walking tour in Santorini. Before you book, check his profile and get in touch with him for more information.
Get well prepared and enjoy this unforgettable experience!
4 . Go for kayaking
Kayaking in Santorini is an experience that you will always keep in your memory and heart next to the name: Serenity Kayak or Kalliopi (i.e. first name of the owner/instructor). This is the best choice that you can make if you decide to go for this unique experience.
Kalliopi is the heart and soul of Serenity kayak, a sports travel company with hundreds of 5-star reviews in the largest travel platforms, like Tripadvisor, GetYourGuide and Airbnb.
What makes Kalliopi different from other hosts is her communication gifts, her lovely character, her simplicity with focus to every detail, her personalized service with respect to every single different human being. We are sure that apart from falling in love with kayaking, you will find in Kalliopi a new friend for life!
We recommend this activity "with eyes shut" as the Greeks say. You can get all the technical or other information you need via the official website of Serenity Kayak, here:www.serenitykayak.com or by contacting Kalliopi directly via the following social media pages: https://www.facebook.com/serenity.kayak.santorini.outdoors
https://www.instagram.com/serenity_kayak_santorini/
We are sure you're going to love this experience! Hurry up and book your kayaking tour now!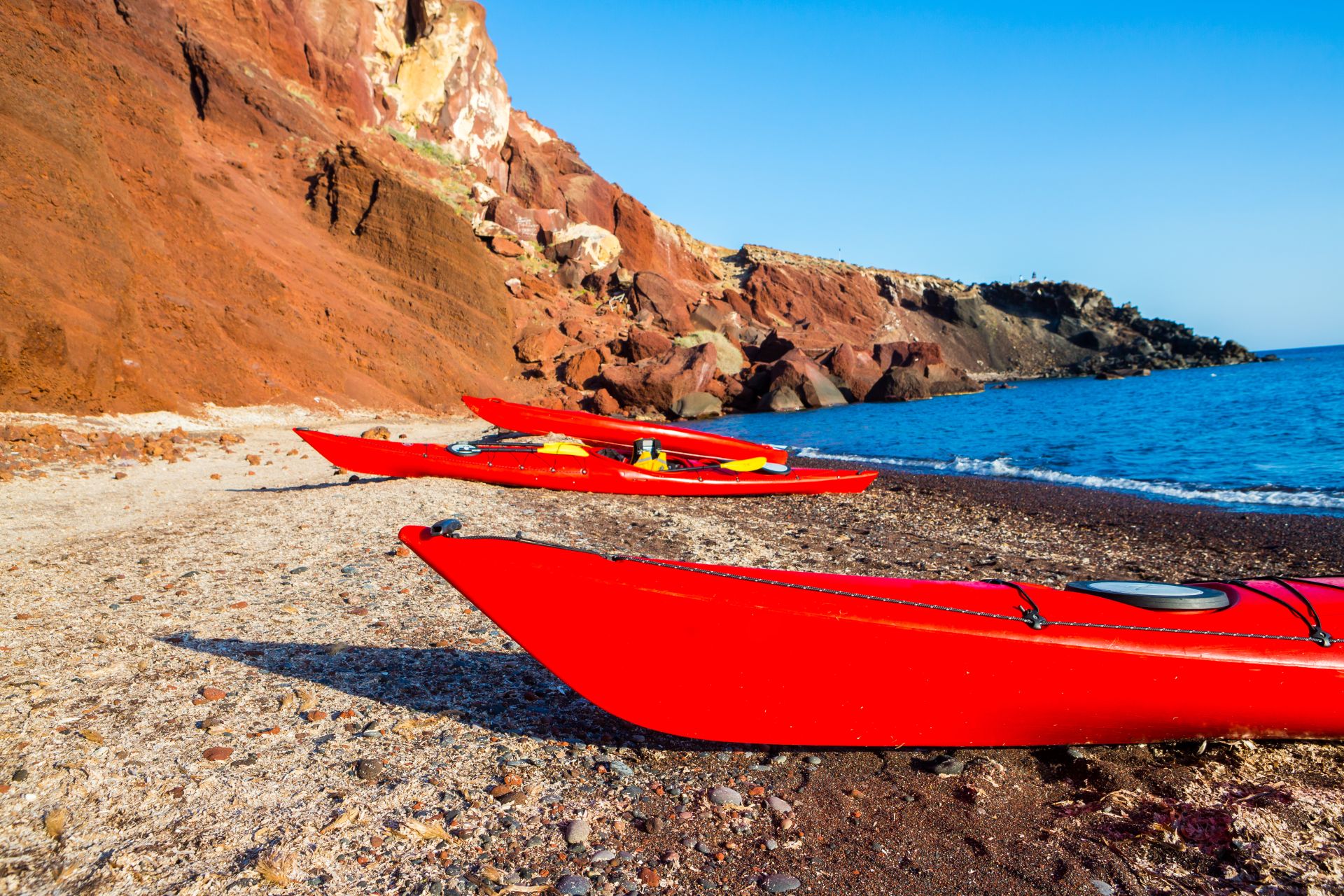 5 . Have a horse riding
What an amazing, unique experience! If you love animals and nature, this is the absolutely right activity for you! You will learn to ride a horse, while admiring outstanding views of the island. You could combine your riding tour with a wine and food experience or even have a stop for a swim at the black sand beaches of Santorini. In case you wish to follow a specific path, you could design your riding tour by yourselves.
Finally, you could make this dreamy experience come true thanks to Efippos Riding Center in Vlychada, Santorini. Efippos experts will guide and escort you all along this unique tour! Get in touch with them directly by the phone, here: +30 6974614300 or visit their official website to get more information, here: www.efippos.com
"Give into" the natural side of Santorini and create some unforgettable memories!